Pour la 4ème année consécutive, l'Association Femâles met en place son festival de metal uniquement destiné aux groupes dont le chant est assuré par une fille! Si les affiches précédentes ont montré plus de diversité dans leur programmation, nous avons décidé cette année de faire honneur au metal symphonique et de vous offrir une édition homogène dans sa direction artistique. Pour la tête d'affiche, notre choix s'est ainsi porté sur l'un des groupes phares de la mouvance, avec ses influences folk si typiques, LEAVES'EYES qui a sorti son nouvel album "Meredead" en février dernier. Actuellement en tournée, le groupe est soutenu par VISIONS OF ATLANTIS, qui revient en France après la sortie de leur nouvel album "Delta" et une tournée européenne en support de Rhapsody Of Fire.
Fidèle à la tradition que nous avons mise en place, la 4ème édition du festival ne manque pas de présenter son groupe Découverte, le coup de coeur de la direction. Cette année nous avons l'honneur de mettre en valeur les slovènes d'APERION, dont le metal puissant, soutenu par de vraies cordes et une voix classique magnifique nous a conquises. Car à un metal lyrique déjà entendu, le groupe ajoute une touche plus lourde accompagnée de samples électroniques qui diversifient et modernisent leur univers.
Nous avons complété l'affiche avec les grenoblois d'AUSPEX, forts de la sortie de leur second opus "Heliopause" et dont l'univers riche et personnel, porté par la très belle voix d'Elodie, mérite d'être présenté au H'elles On Stage pour la seconde fois!
WEDINGOTH, combo lyonnais de metal prog aux accents rock rafraîchissants, qui a sorti son premier opus "Candlelight" en 2010, ouvrira la soirée.
LEAVES'EYES
Metal Symphonique/Norvège
http://www.leaveseyes.de
http://www.myspace.com/leaveseyes​page
VISIONS OF ATLANTIS
Metal Symphonique/Autriche
http://www.myspace.com/visionsofa​tlantisofficial
APERION
Metal Symphonique/Slovénie
http://www.aperion.org/
http://www.myspace.com/aperionban​d
AUSPEX
Metal Prog/Grenoble
http://www.myspace.com/auspexmusi​c
WEDINGOTH
Metal Prog/Rock/Lyon
http://www.myspace.com/wedingoth
Les places sont en vente sur Digitick, Ticketnet et le réseau Fnac :
Digitick :
http://www.digitick.com/h-elle​s-on-stage-iv-leaves-eyes-visi​ons-of-atlantis-concert-dark-m​etal-centre-culturel-oecumeniq​ue-cco-villeurbanne-17-octobre​-2011-css4-digitick-pg101-ri93​6625.html
Ticketnet :
http://www.ticketnet.fr/manifestation/idmanif/236145
Fnac :
http://www.fnacspectacles.com/​place-spectacle/manifestation/​Hard-rock-Metal-H-ELLES-ON-STA​GE-IV---LEAVES-EYES-LYHEL.htm

Visions of Atlantis annule sa venue pour le HOS.

"Dear fans of Visions of Atlantis! Due to some problems concerning the voice and health of our male singer Mario Plank ,who is completely irreplacable for any VoA Live-Show, we are forced to cancel the upcoming shows together with our friends of Leaves` Eyes! And as we`re recording our first Live DVD on the 23rd of October we have to do everything bringing him back on 120% capacity which won`t be possible doing another 4 gigs before! We are very sorry for this as we were really looking forward doing these shows but not under these circumstances and we hope you can understand and respect this decision for a 120% VoA show and against some maybe just 50 percent VoA shows with the risk of the cancellation of our whole Live DVD-Production which will be released for everyone to enjoy in 2012! Yours VoA"
Et voici le nouveau visuel du concert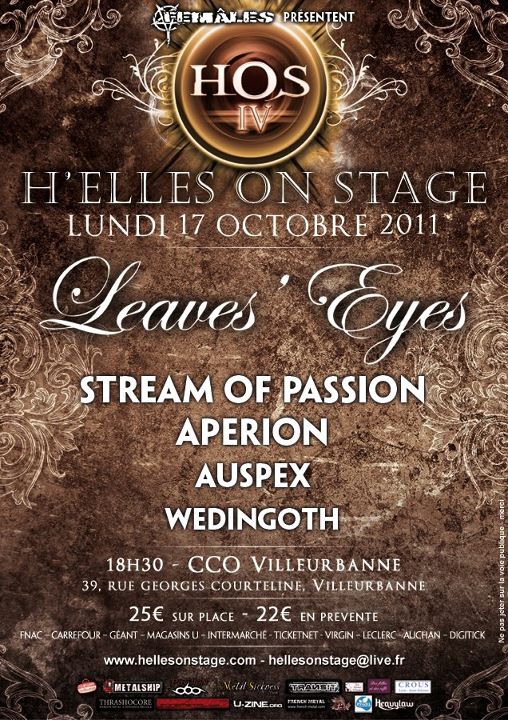 Avec en bonus, un message de la part de Marcela :
"Back in 2009 we had the privilege to tour with Leaves' Eyes through Europe and had a blast! That's why the rest of Stream and Passion and I more than thrilled to have the opportunity to join them again and play beside them on their upcoming tour dates through France and the UK; we can't wait to be there, play our asses off and have a great time with the Leaves' Eyes guys as well as the French and English crowds! See you soon! À bientôt!
Marcela"

---
Permission de ce forum:
Vous
ne pouvez pas
répondre aux sujets dans ce forum